Back
Request for Proposal: Registration, Submission, and Event Management Solution
ROBONATION, INC.
Contact Information:  Julianna Smith
,
humans@robonation.org

, (571) 239-9345
View the official Request for Proposal document.
View Attachment 1: Requirements List.
---
Project Summary and Objectives
RoboNation's program portfolio includes nine educational programs with populations ranging from K-12 students and educators to experienced professionals at the top of their respective technical fields. These programs include a variety of engagements hosted in both virtual and physical environments, including community and stakeholder forums, competitions, and webinars. The focus of this project is to align the systems software needs across our programs and events.  The current systems have been in place for 2+ years and the system requirements have evolved as we continue to streamline processes across programs and expand the reach of the organization's programs. The project's primary objective has been identified as
increasing efficiency
. With the utilization of a new system, RoboNation intends to:
Automate workflows
Integrate systems approach (including existing platforms)
Utilize the system(s) effectively
Following this top priority, other priorities include:
Managing Costs
User/Customer Experience
Reporting Functionality
Project Budget:
up to $60,000 (annual cost)
Project Timeline
| | |
| --- | --- |
| RFP Issue Date | June 23, 2021 |
| Vendor System Demo Period | June 28 – July 15, 2021 |
| Vendor Proposal Submission Deadline | July 16, 2021 |
| Vendor Proposal Review Period | July 19-30, 2021 |
| Vendor Selection Target Date | July 30, 2021 |
| System Implementation Period | August 1, 2021 – September 30, 2021 |
| System Go-Live Target Date | October 1, 2021 |
About RoboNation | www.robonation.org
RoboNation, Inc. (previously the AUVSI Foundation) began operation in 2009 with generous support from AUVSI and three founding partners – SolidWorks, Northrop Grumman and Insitu (a Boeing company). Today, RoboNation is an independent, tax exempt, 501(c)3 nonprofit whose mission is to provide a pathway of hands-on educational experiences that empower students to find innovative solutions to global challenges. Working together with the industry, research, and educators, we have grown to include over nine student competitions and programs and engage more than 250,000 students per year.
Current and Past Systems
Current: Used in 2021
Past: Back to 2018
| | | |
| --- | --- | --- |
| System | System Component | Description/Notes |
| Submittable | Event Registration Submission Management Evaluation | Current and Past |
| Shopify | E-Commerce Merchandise (Apparel) Event Payment | Current |
| Socio | Virtual Engagement Event Management Event Registration Engagement Registration | Current |
| Monday.com | Engagement/Event Management Project Management | Current |
| SurveyMonkey | Engagement Registration Evaluation | Current and Past |
| TypeForm | Engagement Registration | Current and Past |
| RegFox (RegOnline) | Event Registration Submission Management Merchandise (Housing, Event Parking) | Past |
| CVent | Engagement Registration | Past |
| Sign-Up Genius | Engagement Registration | Past |
| FormStack | Event Registration Engagement Registration | Past |
| Dropbox | Submission Management | Past |
The diverse platforms represented in the table above reflect differences in how events (primarily competitions) are structured and the challenges in finding a single system to meet the overall needs of our end-to-end event management process, from registration to awards. For example, registrations for RoboNation competitions are typically submitted by teams or schools, as opposed to individual person registrations. Depending on the competition, registration fees are charged as a flat fee per team or calculated based on number of team members and coaches.  One RoboNation competition includes a majority of minor attendees and registration includes optional add-ons to the main competition registration (ex. housing, meals and parking). Competitions typically involve submissions of technical papers, videos, or other submissions. These submissions must be evaluated by a cadre of judges, the evaluations collected, and all scores are tallied to determine competition winners.
Project Scope
The contract with selected Vendor is expected to be in effect for three years. It is desired that the selected Vendor will:
Advise RoboNation staff in the design and configuration of the system,
Provide training and on-boarding support during implementation, and
Provide ongoing support throughout the use of the system (i.e. email/phone/chat support) with no longer than a 24-hour turnaround for responses.
The ideal solution will be to have a single system that can meet all requirements.  However, we are aware that no single system or platform is likely to meet all our needs and that we may need to consider more than one system.
Vendor Selection Criteria
Demos will be scheduled from June 28 – July 15, 2021 with interested Vendors. Vendors should provide answers to the following criteria in their written proposals submitted by July 16, 2021. 1. How long has the Vendor been in business? When was the proposed system first developed? 2. Can the Vendor provide examples of current customers use-cases? 3. What percentage of the Vendor's customers are non-profit organizations? 4. What systems component(s) can the Vendor address? (See Appendix A) 5. What is the annual cost? Are there any additional set-up/implementation fees? (Provide a breakdown of cost by system component [Appendix A], if possible.) 6. Will there be any anticipated fee increases during the contract)? (RoboNation is looking for a three-year contract.) 7. What are the license fees for the system if it is going to be used on multiple devices by multiple staff? 8. Is the initial staff training included in the cost as presented in the proposal? If not, how is the cost calculated (e.g., by individual, by hour, by day), and what is the cost? 9. Does the Vendor offer an after-hours or emergency service hotline? If so, is there an additional cost for that service? 10. Does the maintenance agreement include ongoing training for new upgrades and features? 11. What network security features does the Vendor provide? 12. Does the Vendor provide encryption options for the data? If so, what are the additional costs, and how are they calculated? 13. How does the Vendor protect personally identifiable information (PII)? Are there any specific protections for PII from minor (under 18 years old) registrants? 14. What is the Vendor's dispute resolution process? 15. What is the process to terminate a relationship with the Vendor and stop paying any fees?
System Requirements 
Appendix A outlines the system components included within this RFP. Appendix B illustrates how components are connected. Appendix C outlines high level requirements.  Detailed requirements are captured in an Excel document as Attachment 1.  The requirements in Attachment 1 are sorted first by the Components, found in Appendix A.  Further categorization is provided in columns for Secondary Component (provides a breakdown of the requirement's specific component) and Requirement Type (provides a breakdown of requirement types across components).  Column I is available for any comments or questions the Vendor wishes to submit to the Project Team with the proposal by July 16, 2021.
Appendix A:  System Components
The following is a list of system components. A diagram illustrating how components are connected can be found in Appendix B.
| | | | |
| --- | --- | --- | --- |
| Component | Requirements | Estimated End-Users annually (Administrative staff, applicants, registrants, evaluators.) | Notes |
| Registration (Master, Engagement and Event) | Registration software automates the process of registering for competitions, conferences, meetings, classes, and other events. | Registrants (by team): – Up to 2,000 – Up to 6,500 – Up to 10,000 Registrants (by individuals): – Up to 10,000 – Up to 35,000 – Up to 40,000 Administrative staff: – Super Admin: 10 – Mid-level Admin: 125 | Priority = 1 |
| Engagement/Event Management | Coordination and scheduling of events. | Administrative staff: 10 | |
| Virtual Event Management | Coordination and scheduling of events virtually with live streaming tools that can be viewed on multiple devices. | Administrative staff: 30 | |
| Submission Management / Evaluation | Automates the process of collecting and evaluating/judging documents for competition events. | Competition Teams: 500 Applicants: 200 Evaluators: 300 Administrative staff: 10 | Priority = 2 |
| Awards Management | Automates the process of awarding prizes, grants, complimentary non-monetary products. | Administrative staff: 10 | Priority = 3 |
| Merchandise | Enables RoboNation to conduct transactions for goods and services over the web. This includes Event Housing. | Administrative staff: 10 | |
*Accounting/reporting integrations and/or capabilities are important considerations within each of the above system components. RoboNation's accounting system is NetSuite.
Appendix B: System Components Ecosystem Diagram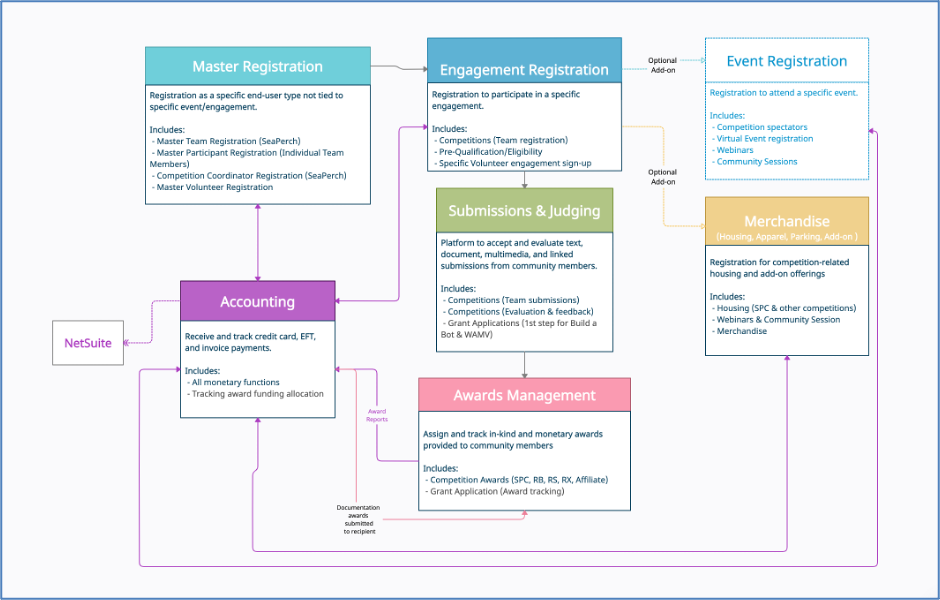 Appendix C:  High Level Requirements
Detailed requirements are captured in an Excel document as Attachment 1.
Registration / Event / Competition Requirements
Component
Special Notes
Notes
Multi-Step (Stage) Registration
Team registration (preferable using user ID / password, not e-mail), Multi-stage and registration capability for multiple event components
Required / Multiple   registrations tied to single e-mail (Preferred)
Vetting Process
Registration vetting/approval using code, e-mail, question, or required uploaded submissions (document, image, or video)
Required
Payment
Multiple payment methods, including checks and Purchase Orders, with coupon code capability
Required
Data Security
Data security meets all current standards, including those for information from minors
Required
Custom Registration Form
Ability to customize registration page with logo, colors, custom questions / fields
Required
Submission Upload Capability
Ability for registrants to upload submissions using multiple formats – multi-page documents, images, videos / Upload tied to multiple event components
Required
Review Capability
Blind review capability of uploaded submissions / scoring using up/down voting and customized review form including comments with scores tallied by event component (multiple rubrics (1 per event component) / sharable scores and comments / ability to leave comments for staff/admins only
Required
Communications
Ability for event organizers to communicate with attendees (individually and in bulk, manually and automated) and track communication within the platform.  Customizable communication templates needed.
Required
Bulk Processing
Ability to bulk qualify teams and mark them as approved with automated messaging tied to process
Required
Judge Access
200 external judges with access to rubrics for each event component (not tied to admin seats) / Bulk invitation capability / manual and automated assignment of judges to individual submissions
Required / Automated Assignment – Preferred
Reporting
Download complete registration submission data including customizable reports, manual and automated scheduling for report downloads
Required
Labeling / Tagging
Customized labels/tags applied to submissions to track registration process
Preferred
Attendee Access
Multiple team members able to contribute to single team application / Ability to save / edit form until admin closure
Preferred
---